Vienna City Guide brochure download
Parking in Vienna
For your visit to Vienna by car, we have summarized everything you need to know about parking: If you are arriving by car, please clarify with us before your arrival where and under what terms and conditions you can park your vehicle. The city can be easily explored by public transport. Whether for sightseeing, shopping or visiting a restaurant. With the subways, streetcars and buses of Wiener Linien (municipal transport) you can travel cheaply, comfortably, quickly and reliably. Since March 1, 2022, almost all of Vienna has been a comprehensive, contiguous and metered short-term parking zone. In Vienna, a short-stay parking zone regulation applies to almost the entire city area. A good reason to get out of the car and into public transport for a visit to the city.
Short-term parking zones
You need a parking ticket from the first minute (e.g. already when unloading the suitcases!), which must be deposited clearly visible on the dashboard. The short-term parking zone is valid in all districts from Monday to Friday from 9 a.m. to 10 p.m. for a maximum parking time of 2 hours.The regulations can be in business streets. Please follow the signs. Guests with disabilities can park in the short-term parking zones without restrictions if they have a parking permit for disabled persons according to §29 StVO (EU parking permit) (deposited on the dashboard). This also applies to disabled persons as passengers.
Parking tickets
Points of sale: Tobacconists, cigarette vending machines, Wiener Linien advance booking offices, Wiener Linien ticket vending machines and in all Vienna subway stations, ARBÖ & ÖAMTC motorist clubs, gas stations, tourist information. You can fill in all parking tickets via cell phone. Info at www.handyparken.at
Amount of the parking meter fee – valid as of January 1, 2023:
Parking time 15 minutes (parking ticket purple): Free of charge
30 minutes (parking ticket red): 1,25 Euro
60 minutes (parking ticket blue): 2,50 Euro
90 minutes (parking ticket green): 3,75 Euro
120 minutes (parking ticket yellow): 5 euros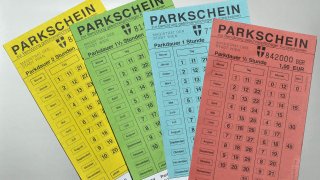 The 15-minute parking ticket (free of charge) may not be combined with other parking tickets.
Parking tickets must always be filled out completely, otherwise they are invalid:
(year, month, day, hour and minute) ARRIVAL at the parking lot!
If you need more than one parking ticket, enter the same data on each one!
Park & Ride (0-24h)
At important traffic points and city entrances, Park&Ride facilities enable a convenient transfer from the car to public transport. And all this at reasonable prices. Furthermore, you get a discount in combination with a weekly, monthly or annual ticket of the Wiener Linien. More info at www.parken.at/wien
Parking garages and parking guidance system
In Vienna, 300 parking garages with a capacity of 100,000 parking spaces are currently connected to the parking guidance system. More info at www.parken.at/wien
Residents' parking
In some districts of Vienna there are parking spaces specially reserved for residents, which may not be used even with a valid parking ticket.
These zones are designated by no stopping and no parking signs with additional signs "except vehicles with parking sticker for xx district and disabled persons".